How Frozen Beverages & Smoothies Increase Revenue
Frozen beverages have come a long way from c-store slushies for teens. Sophisticated flavor blends, healthy, fruity smoothies, iced coffees and teas, shakes, infused soda slushes, alcoholic choices, and the-ever-popular soda pop flavors are on-trend and profitable, providing up to 70% profit margins.
So, if you're searching for a way to differentiate your restaurant, café, deli, convenience store, event space, or food service operation and increase revenue, frozen drinks and smoothies are an easy, affordable way to reach your goals.
The opportunity exists to charge a premium for signature frozen drinks and seasonal specials, to the tune of up to 70% gross profit.
The Profitability of Frozen Beverages
Customers love a memorable dining and drinking experience, whether your food service business is upscale or fast-casual, and frozen carbonated and uncarbonated beverages provide that experience.
Additionally, the opportunity exists to charge a premium for signature frozen drinks and seasonal specials, to the tune of up to 70% gross profit.
Why are profits so high?
About 50% of a frozen carbonated beverage (FCB) drink is CO₂ (air), 40% is water, and 10% is flavoring. Low product costs equate to approximately 70% gross profits.
A frozen uncarbonated beverage (FUB) is about 60% water, 15% air or "expansion," and 25% syrup, providing 50–60% profits.
Smoothie and milkshake profitability decreases slightly because of the cost of ingredients, but they can be served just as fast with the right FUB machines, in about 3 seconds, keeping labor costs to a minimum and providing about 40% gross profit.
Commercial frozen carbonated and uncarbonated slushie and smoothie machines are easy to operate, easy to clean and maintain, and offer high capacity for longer runs without having to refill or clean the machines. All these features allow you to serve frozen drinks with consistency, food safety, less labor, and higher output.
3 Steps to Add Frozen Drinks to Your Menu
Step 1: Decide which types of frozen drinks are best for your business model and customer base.
To add a frozen drink selection to your restaurant, café, deli, convenience store, event space, or other types of food service operation, first, decide which type is best for your business model and customer base – FCBs or FUBs.
For example, if you run a fine-dining restaurant, you may want to turn craft beers, champagne, and cocktails into irresistible signature slushies. Or maybe your business is a casual light-fare café where customers would respond to frozen coffees, chai tea, and fruit smoothies. For the convenience store operator, a self-serve slushie machine with several flavors could be your best option.
Here are a few examples of frozen carbonated beverages and frozen uncarbonated beverages to help you decide.
Frozen Carbonated Beverage (FCB) Types
Frozen carbonated beverages include soda pop slushies, signature infused sodas, alcoholic beverages, ginger ale, root beer, fruity and tropical icees.
Frozen Uncarbonated Beverage (FUB) Types
Frozen uncarbonated beverages include fruit smoothies, milkshakes (smooth or with bits of candy), malteds, coffees, frappes, teas, adult beverages, fruit-juice slushies, infused herbal concoctions, Italian Ice, and Granitas.
Step 2: Choose a frozen beverage and slushie machine type.
Commercial Frozen Drink Machines: FCB Freezers
FCB machines, also called freezers, use flavored syrup and water mixed with CO₂ for a light, fluffy, effervescent slushie texture. When dispensed, the pressure releases, ice crystals form and expand, and you get a delicious frozen carbonated drink. These are the "slushies" we know and love.
One example of a quality commercial FCB machine is Taylor
Company's modular, countertop, frozen carbonated beverage freezer, Model C300. It offers two flavor options at once and dispenses a fluffy, high-overrun slushie in a pressurized system. An optional non-pressurized system produces a wetter, lower overrun slush.
Commercial Frozen Drink Machines: FUB Freezers
FUB machines come in a variety of options, from milkshake and smoothie machines to frozen drink and adult beverage freezers, and combination freezers that dispense both soft serve ice cream and frozen uncarbonated beverages.
One of Taylor Company's most popular and versatile commercial frozen uncarbonated beverage freezers is Model 390, which
produces non-dairy frozen beverages, like smoothies, frozen lemonade, and cocktails, as well as fruit juices, coffees, cappuccinos, and teas. Adjustable control allows you to serve a wide variety of frozen beverages at the desired thickness.
Step 3: Market Your New Frozen Drink Menu
Once you've received your new frozen beverage machine, it's time to create drinks and market your frozen beverages. Here are a few ideas:
Position your new frozen drinks as menu items: as desserts or a pairing with food items (i.e., salad and smoothie, frozen coffee and a pastry).
Create signature flavors, seasonal and daily specials, and rotate your offerings often.
Offer free or low-cost trial sizes to inspire people to try them.
Market their convenience and/or healthful benefits.
Get the word out on your website, social media, and use point-of-sale (POS) materials.
No matter how you decide to market your new frozen drinks, new and existing customers will be excited to try them and if they love them, come back for more. High profitability, increased traffic, and add-on sales equate to food service success.
Be sure to watch our Zamboozy video for even more great ideas!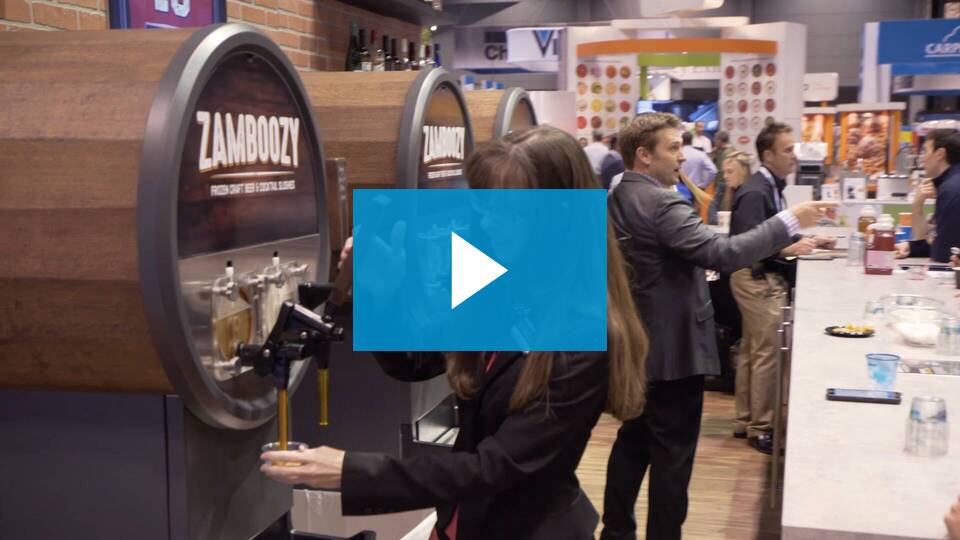 Ready for a No-Obligation Conversation About Frozen Drinks in Your Food Service Business?
If you're ready to talk about how your food service business could benefit from adding frozen drinks to your menu, Taylor Freezers of California is here to help. Since 1965, we've been helping food service operations like yours expand their offerings and grow with the gold-standard brand in frozen food and beverage equipment, Taylor Company.
We have five convenient showroom demo kitchens in California and Nevada, ready to serve you. Contact us today for a no-obligation conversation or stop by a demo kitchen today. 800-927-7704